FFA 2018-19 Class Officers Race
Hang on for a minute...we're trying to find some more stories you might like.
With 7 of the seniors graduating this year, it leaves the juniors to take the lead in the next school year. These upcoming seniors are running for an officer spot in the FFA club. They have answered the following questions:
Why do you want to become an officer for the FFA club? What makes you the best candidate? How do you think you will help the FFA club and what do you plan on doing for the club if you are an officer?
"I want to become an officer for the Pioneer Valley FFA Chapter because I want to be able to share and give more opportunities to the members. I want to be able to motivate the members to strive and take all the opportunities the FFA has to offer. I believe I am the best candidate for an officer position because I have been involved since my freshman year. I've done all the speaking competitions and attended many conferences. With those experienced I have the chance to bring back those experiences and leadership abilities to the members. I have been an officer before for the chapter as chapter secretary form 2016-2017. I think I'll help the FFA club by demonstrating leadership abilities and inspiring members to join a judging team or a speaking competition. With more members doing those activities the more success the Pioneer Valley Chapter will have."
"Ultimately, I want to be an officer because I want to be a positive role model for my peers. I know that with positivity and dedication I can contribute to upcoming successes because I know our chapter has talent. I'm the best candidate because I'm a reliable person as well as someone who can easily be approached. I enjoy making new friends, and I find it easy. I will help the FFA by broadening the horizons of others to teach them about the limitless opportunities that FFA has to offer. I know entering my freshman year, I had no clue what FFA was and I wasn't too convinced on joining the club. Overall, seeing how much fun the officers, along with the members, had was something that really caught my attention. Now that I am almost done with high school, I tend to reflect on the opportunities that FFA has brought me and how putting on a blue jacket makes me feel at home. I hope to bring that same feeling of wanting to join and being a part of something to other members. My plan for the FFA club; aside from making every individual feel welcome, is to ultimately get more people involved and show them what this program has to offer. Lastly, I aspire to inspire others and contribute to the future successes of our program."
"I want to become and FFA officer because this organization has done so much for me. It had opened up new doors and opportunities for me, as well as many other members. I would love to give back as much as possible. I want our chapter to be a lot more united with new FFA members, I can't wait to see what next year brings. I'm the best candidate because I️'m a very hardworking person. When I️'m met with a task I won't stop until it is completed properly. Also, I'm very friendly and once you get to know me I'm very talkative. I have a very bubbly personality, which will help me reach out to many new members in our chapter. I want to be someone you can talk to and trust. If elected as a chapter officer I plan on uniting our chapter. I feel as though this year not many students were involved. I want to make our FFA members feel comfortable and have them step out of their comfort zones. I hope to help them reach their goals in the FFA and hopefully allow this organization to do as much for them as it has for me."
About the Writer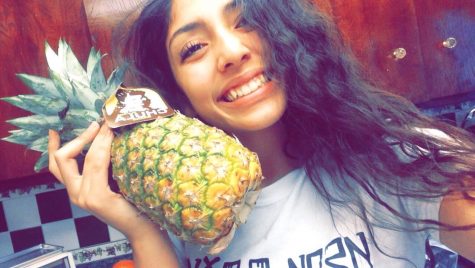 Andrea Meza, Reporter
Hey there! My name is Andrea Meza, but you can call me Drea. I'm a senior here at Pioneer Valley High School. AND I really like pineapples.🍍...