M.C. Escher Lends a Hand
Hang on for a minute...we're trying to find some more stories you might like.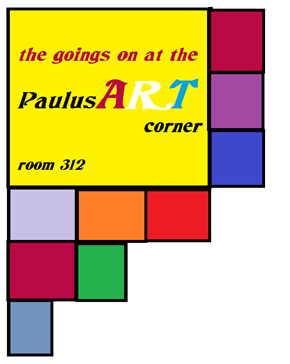 See Like An Artist 
Article number 5
M.C. Escher Lends a Hand
Art needs to begin with reality. It rarely maintains consistency when it is birthed only in the mind. It needs to use elements of the real world to help transform the audience into the world that the artist creates.
For this project the students were given a copy of M.C. Eschers Drawing Hands. The reproduction was glued onto a red piece of paper. The assignment was to take this strange drawing of hands drawing each other and create a world for them to live in. The work begain with something in reality, the hands, and then gave it a world to live in. What do you think about it?
Maurits Cornelis Escher (1898-1972) is one of the world's most famous artists. His famous works include impossible constructions, ascending and descending stairs, and transformation prints. He also has the Metamorphosis series that is not to be missed. Metamorphosis 1,2,3 and Sky and Water and the Reptiles. He also did some wonderful realistic work. During his lifetime he made 448 lithographs, woodcuts and wood engravings and over 2000 drawings and sketches. A side note, he was left handed. Other famous artists that were left handed were Michelangelo, Leonardo da Vinci, Durer, and Holbein.
Along with being a graphic artist he illustrated books, designed tapestries, postage stamps and murals.
"He played with architecture, perspective and impossible spaces. His art continues to amaze and wonder millions of people all over the world. In his work we recognize his keen observation of the world around us and the expressions of his own fantasies. M.C. Escher shows us that reality is wondrous, comprehensible and fascinating."